I haven't been following SPORTS that closely this year, so I don't even know who Cam'Ron is, but I saw this drama on reddit today....guess the kid was pretty upset about PT and aired his grievances....and apparently was crying on the bench against UNC
Now, UK is 1-5, which is pretty wild, and if we didn't have a close-game magician for a coach, we could easily have 3-4 losses ourselves....anyway, as many UK fans are saying "there must be something else going on behind the scenes", which is fair, but it's still a bad look, no matter how you spin it:
LINK
to story
Kid's Apology: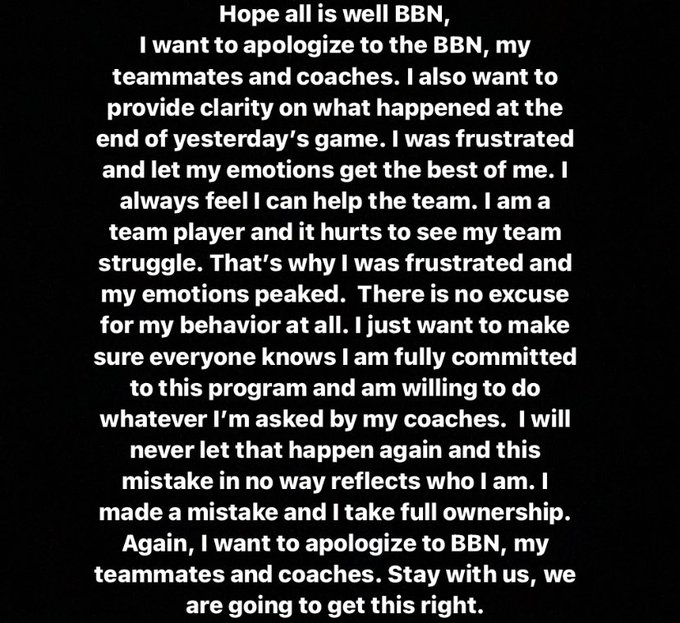 Cal's Statement (also posted on facebook/twitter, if I heard correctly):
We have asked Cam Fletcher to take some time and step away from the team. He needs to reflect and do some soul searching to get his priorities in order. Any attitude or actions that are detrimental to this team will not be tolerated – and that goes for everyone on the team.
We have a culture here that's been built over the last 11 years AND IT WILL NOT CHANGE. Through good times and bad, this culture is meant to change individuals and change maturity levels. This hurts our team, but this is about Cam and his future.
I talked to Cam and his mother and they know I care about him and I love him, but they also understand that there are changes that need to be made. It's his job to decide whether he can perform within this culture both on and off the court.