Mike (may I call you Mike?), I know this is a rough time for you. Your basketball coach left you, and, well, you're still in Missouri. In the interest of cooperation between neighbors, I would like to suggest the following candidates for your new head basketball coach.
Candidate #1 - Larry Eustachy
Mike, recruiting to Missouri is hard. Damn hard. When the cultural highlight of the state is Kakov down in Branson, you're just not gonna overwhelm these kids. That's why Eustachy would be a great hire. The dude knows where the parties are in Columbia, and recruits will come back from their recruiting trips overwhelmed. Plus, he drinks Natty Light (piss water), so he'll fit right in down in ole Mizzou.
Candidate #2 - Danny Nee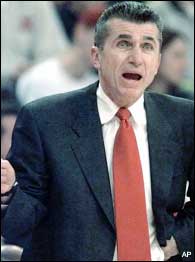 I'm sure the last three years with Anderson have been tough for you, especially the off-season. Each of the last three years Anderson has held the state of Missouri hostage, looking for more money as he searched for another job. Well, you won't have that problem with Nee. You will actually save quite a bit of cash, as at this point in his career I'm guessing that Nee would not only coach for minimum wage, but would clean up the arena after games.
Candidate #3 - Quin Snyder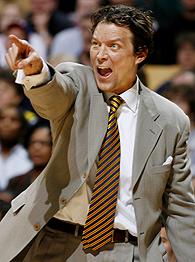 He's tan. He's rested. And he's still got great hair. You'd probably have to provide him an umbrella beenie to keep the popcorn out of the mange, but it's well worth it. You folks at Moo think you're all about education, and who better to promote that image than Snyder. Shoot, he took an imbecile in Ricky Clemons and got him his doctorate in one short summer.
Candidate #4 - Melvin Watkins
If not Quin, how about about Watkins? He was 0-16 the last time he was a head coach. He's due.
Candidate #5 - Ricardo Patton
Mike Anderson had a defense that preached whacking the arms and hoping it doesn't get called. The problem was, you didn't whack good enough. Ricardo has a black belt, and he'll teach your team to whack "through the arm." Think about it.
Candidate #6 - Ralph Nader
Nader has recently come out calling for all athletic scholarships to be eliminated. Face it, that would help you guys tremendously, and it's probably the slim chance you have to be halfway decent in the future.
Candidate #7 - Lute Olson
Lute, (shown here doing his best deer in the headlights impersonation) may have been dead for going on ten years now, but if saving money is important Lute may fit into your plans. Dead men don't need health or life insurance.
Candidate #8 - Charlie Sheen
Let's look at Charlie, shall we?
- He's completely insane
- He can convince himself that he's "winning" even when he's getting his ass kicked.
- He's a drug addict
- He's an alcoholic
- He is convinced that two skanks are "goddesses", a trait that will come in handy when evaluating your returning players.
Damn. He's a natural. He's one of you. He's an antler. Your fans will embrace him as one of their own.
Mike, I hope this has helped. I genuinely care about you and your program, and want to make sure that your position as a laughing stock remains firm.
Love
Beakumhawks