Your Highness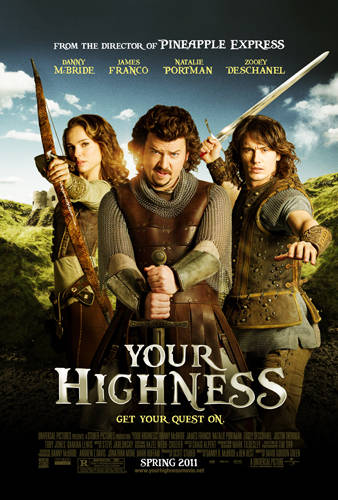 Rated: R
Directed By:
David Gordon Green
Starring:
Danny McBride, James Franco, and Natalie Portman
Synopsis:
Danny McBride and James Franco team up for an epic comedy adventure set in a fantastical world—Your Highness.Thadeous (McBride) has spent his life watching his perfect older brother Fabious (Franco) embark upon valiant journeys and win the hearts of his people. But when Fabious' bride-to-be, Belladonna (Zooey Deschanel), gets kidnapped by the evil wizard Leezar (Justin Theroux), the king gives his deadbeat son an ultimatum: Man up and help rescue her or get cut off.
Half-assedly embarking upon his first quest, Thadeous joins Fabious to trek across the perilous outlands and free the princess. Joined by Isabel (Natalie Portman)—an elusive warrior with a dangerous agenda of her own—the brothers must vanquish horrific creatures and knights before they can reach Belladonna. If Thadeous can find his inner hero, he can help his brother prevent the destruction of his land.
Have you seen it FF24?
No
FF24 Take:
I was excited about this one when I saw the above trailer about 6 months ago. I like the idea of a crude/rude medieval comedy. Danny McBride looks funny (but could be pretty damn annoying by the end of it), Franco looks like Franco, and Portman looks pre-baby bump hot. I'll be seeing it this weekend.
Hanna
Rated: PG-13
Directed By:
Joe Wright
Starring:
Eric Bana, Cate Blanchett, Saoirse Ronan
Synopsis:
Raised by her father (Eric Bana), an ex-CIA man, in the wilds of Finland, Hanna's upbringing and training have been one and the same, all geared to making her the perfect assassin. The turning point in her adolescence is a sharp one; sent into the world by her father on a mission, Hanna journeys stealthily across Europe while eluding agents dispatched after her by a ruthless intelligence operative with secrets of her own (Cate Blanchett). As she nears her ultimate target, Hanna faces startling revelations about her existence and unexpected questions about her humanity.
Have you seen it FF24?
No
FF24 Take:
I think this one looks pretty solid but I'll probably wait for Blu-Ray to see it.
Arthur
Rated: PG-13
Directed By:
Jason Winer
Starring:
Russell Brand, Helen Mirren, Jennifer Garner
Synopsis:
Irresponsible charmer Arthur Bach (Russell Brand) has always relied on two things to get by: his limitless fortune and the good sense of lifelong nanny Hobson (Helen Mirren) to keep him out of trouble. Now he faces his biggest challenge--choosing between an arranged marriage that will ensure his lavish lifestyle or an uncertain future with the one thing money can't buy, Naomi (Greta Gerwig), the only woman he has ever loved. With Naomi's inspiration and some unconventional help from Hobson, Arthur will take the most expensive risk of his life and finally learn what it means to become a man, in this re-imagining of the classic romantic comedy "Arthur."
Have you seen it FF24?
No
FF24 Take:
Just turrible. The original wasn't good, this one looks just as successful. I can't stand Russell Brand so that may be swaying me somewhat, but the David Bowie music in the trailer is just lazy.
If I could see one movie this weekend what would it be?
Your Highness
Coming Next Week:
SCREAM MOTHERFUCKIN' 4, Rio